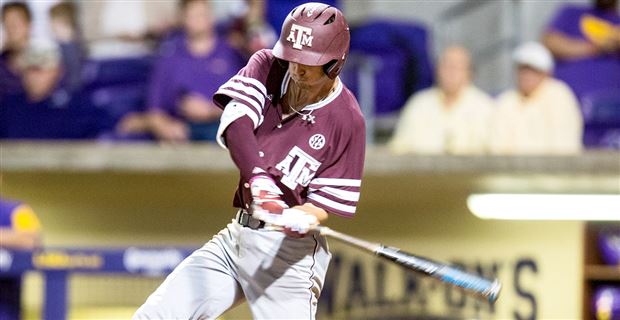 Texas A&M second baseman
Braden Shewmake
had quite a debut season a year ago as the Aggies made it to the College World Series.
The 6-foot-4, 180-pound infielder started every game as a true freshman, leading the team in almost every offense category. Shewmake hit .328 with 11 home runs, 69 RBI and 18 doubles en route to being named the SEC Freshman of the Year. He was also named a first-team All-American by Baseball American, Collegiate Baseball and the National College Baseball Writers Association.
Heading into the 2018 season, Shewmake continues to rack up honors.
This week, the sophomore was named a second-team preseason All-American by Collegiate Baseball. Shewmake is behind
Nick Madrigal
of Oregon State, who he split the postseason honors with a year ago. The junior hit .380 with 40 RBI and 20 doubles for a team that went 56-6 a year ago.
A&M kicks off the season with a weekend series against Rhode Island at Blue Bell Park on Feb. 16-18.
COLLEGIATE BASEBALL PRESEASON ALL-AMERICAN TEAMS
FIRST TEAM
LHP Luke Heimlich (Oregon St.)
LHP Steven Gingery (Texas Tech.)
RHP Brady Singer (Florida)
RHP Sean Hjelle (Kentucky)
LHP/DH Tyler Holton (Florida St.)
Relief Michael Byrne (Florida)
Relief Kenyon Yovan (Oregon)
C J.T. Thomas (Mercer)
1B Luken Baker (Texas Christian)
2B Nick Madrigal (Oregon St.)
3B Johnny Aiello (Wake Forest)
SS Jeremy Eierman (Missouri St.)
OF Seth Beer (Clemson)
OF Niko Hulsizer (Morehead St.)
OF Griffin Conine (Duke)
DH Logan McRae (Coll. of Charleston)
UT Kevin Milam (St. Mary's, CA)
SECOND TEAM
RHP Joey Murray (Kent St.)
LHP Trey Cumbie (Houston)
RHP Jackson Kowar (Florida)
RHP Logan Gilbert (Stetson)
LHP Konnor Pilkington ( Mississippi St.)
RHP Colton Eastman (Cal. St. Fullerton)
RHP Zack Hess (Louisiana St.)
RHP Casey Mize (Auburn)
LHP Nick Sprengel (San Diego)
RHP Jared Janczak (Texas Christian)
LHP Gunner Leger (Louisiana-Lafayette)
RHP Sean Mooney (St. John's)
RHP Patrick Raby (Vanderbilt)
Relief Michael Clark (Cal. Poly)
Relief Nick Sandlin (Southern Mississippi)
Relief Brett Conine (Cal. St. Fullerton)
Relief Jake Fromson (Missouri St.)
Relief Luis Alvarado (Nebraska)
C Mason Fishback ( New Mexico St.)
C Cal Raleigh (Florida St.)
C Chris Williams (Clemson)
1B Kevin Woodall (Coastal Carolina)
1B Nic Ready (Air Force)
2B Braden Shewmake (Texas A&M)
3B Jonathan India (Florida)
SS Tyler Frank (Florida Atlantic)
OF Matt Wallner (Southern Mississippi)
OF Greyson Jenista (Wichita St.)
OF Jake McCarthy (Virginia)
UT John McMillon (Texas Tech.)